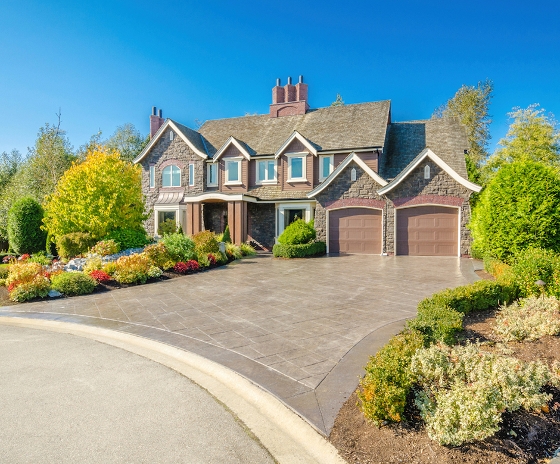 A driveway can add a lot of value to your home and enhance its curb appeal, making your home looked lovingly maintained and inviting.
The most common driveway surface in Ontario is asphalt. Smooth, black asphalt is easy to shovel, provides an even surface for kids to play, and a clean, simple look. Generally, it is the most cost-effective option and lasts about 10 years. Asphalt driveways require regular sealing to prevent cracks and fading. Patterned asphalt is a relatively new option where a brick or stone pattern is stamped into the asphalt. A cement compound is added on top to provide the colour and texture of brick or stone. This will cost more, but provides a more custom look. Research this option carefully to ensure it doesn't reduce the longevity of your paving.
More expensive than asphalt, concrete provides the same smooth, clean surface that's easy to work with in our climate. Concrete will also need regular maintenance. A sealer every three years or so will help minimize cracks. Concrete driveways can be slippery, so sealants often contain a traction agent. In addition, concrete must have expansion joints cut into the driveway at regular intervals or the driveway will crack. Concrete provides increased longevity for its added cost, lasting 25-plus years. Stamped and coloured concrete is also an option, giving a natural stone look, cobblestone, or even brick to match your home's exterior style.
Interlock driveways are often the most expensive paving option available. Interlock is available in every design and finish you can imagine and at every price point as well. Labour is the real cost as individual concrete, stone, or brick pavers are hand-installed. Longevity is a consideration for this driveway option as well. Oil spills that would ruin asphalt or concrete are an easy fix for interlock. Just pop out the stained pavers and replace them. And if your driveway's gravel base starts to heave after many years, the pavers can be removed and set aside, the base repaired, and the pavers returned once again. Depending on the quality of the pavers, this driveway should last 30 years or more. Interlock is also the most environmentally responsible choice, due to its long life, ability to be repaired, and its permeability. Water can penetrate the driveway into the ground and stay out of storm sewers.
Whatever option you choose, having a well-maintained driveway adds to your home's value.