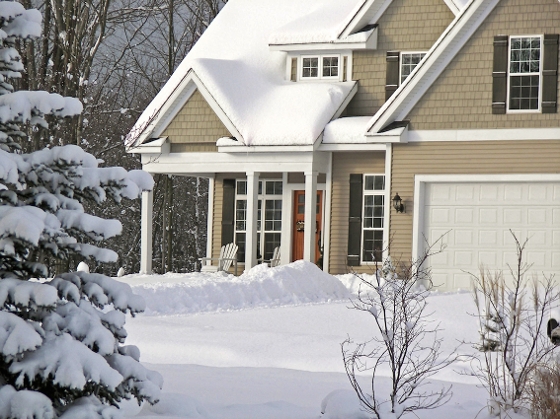 Those cold and snowy winter days will inevitably arrive just like clockwork. Here are some tips to get your property winter ready:
1. Heating Check-Up
Have your heating system serviced by a qualified professional. A gas furnace should be serviced every two years and an oil furnace every year. Change your furnace filter because a dirty filter will cause inefficiency in a forced air heating/cooling system.
2. Chimney Sweep
Ensure your fireplace (or any gas, oil, wood or coal heating appliance), chimney and vents are clean. A regular maintenance schedule can help you steer clear of chimney fires and prevent carbon monoxide from entering your home.
3. Gut The Gutters
Leaves and other debris can collect up in your eavestroughs over the fall. Blockage causes all types of trouble and can even trigger ice dams. Ensure that downspouts extend at least six feet from your home's foundation.
4. Repair The Roof
Roof repairs should be made before the temperatures drop and the damp weather makes proper repairs almost impossible.
5. Seal It Up Tight
Look for any cracks in your home that need to be repaired. All exterior windows/doors should be closed tightly and repair, or replace weather-stripping as needed. Take down your insect screens so that your home's heating system can do its job and keep the glass condensation-free.
6. Check Your Alarms
Help prevent a fire, or carbon monoxide poisoning in your home by regularly changing the batteries in these detectors. The Office of the Fire Marshal recommends replacing smoke alarms every ten years, or when it has exceeded the manufacturer's recommended life cycle. Remember, a carbon monoxide detector is now required to be in every home and batteries replaced every six months. Make sure they are positioned beside sleeping areas.
7. Maximize Hot Air
Once your furnace is on, reverse your ceiling fans so that the blades run in a clockwise direction. Energy Star recommends this tip to help push the hot air down into the room.
8. Turn Off Exterior Faucets
Frozen pipes are a nightmare. Avoid this by draining all the remaining water, turning off all the exterior faucets and disconnecting garden hoses.
9. Winterize The Backyard
Prepare your gardens, cover and protect bushes and young trees and ensure that you've safely stored away all outdoor furniture and kids toys.
10. Take Inventory
Make sure you have plenty of the winter essentials on hand. Salt or sand for ice melting and a good shovel or snowblower are must-haves for Canadian winters.